Renata Vilanova Lobo is the Head of Wholesale Payments (WP) for J.P. Morgan in Brazil, being responsible for Treasury Services, Trade Finance and Merchant Services, covering onshore and offshore corporate client needs. She is a Managing Director, board member of J.P. Morgan Brazil, and directly responsible for the development, sales strategy and commercialization of WP solutions offered to clients operating in Brazil. 
Renata joined J.P. Morgan Brazil in 2011 and, since then, has been highly focused on developing Treasury Services local capabilities in Brazil and growing the Treasury Services business in Latam (Brazil, Mexico, Argentina, Chile and Colombia). 
Renata has 20+ years of experience in the financial market, holding various positions on local and international cash management and liquidity, as Product Manager and Sales Manager for Brazil and Latin America. 
Renata is a Senior Sponsor and part of the Leadership team for two diversity groups held in J.P. Morgan: WOTM – Women on The Move and NextGen. Board member at Fitbank, J.P. Morgan's first FinTech investee in Latin America, leading the strategic agenda to develop innovative and digital solutions to our Wholesale Payments clients in Brazil. 
Bachelor's degree of Economics (FEA USP - University of Sao Paulo) and post graduate work in Financial Risk Management (FIA USP).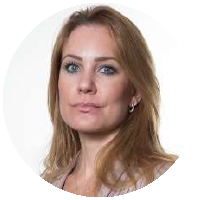 Renata Vilanova
Managing Director Head of Wholesale Payments Brazil
JP Morgan