Claudia Corona is the founder of Impronta Verde, a strategic consulting firm that promotes disruptive solutions to reduce food waste and greenhouse gas (GHG) emissions along the supply chain. 
She is a senior executive with +20 years of experience at global leading Banks (Citibanamex, Santander, Rabobank) plus Multinational and Agribusiness companies (Comex and Ecom Group) working in different sectors such as Agroindustry, CPG Food and Beverages, hospitality, construction, petrochemical, paintings and telecom.  
Her international exposure includes Mexico, Guatemala, Netherlands, UK, USA and Italy buidling up a strong network along her professional career. 
Claudia has occupied different positions within the corporate banking areas from credit, workouts, new products, project finance, syndications, structure trade commodity finance, and receivables funds.  In the corporate world she has mainly participated in the finance and treasury departments of different companies. 
With an engineering acumen and strong negotiations skills, she has been able to detect opportunities under adverse environments by restructuring portfolios under financial crisis and turn them around into highly profitable and sustainable  ones in sectors such as construction, commodities, protein and beverage industries in Mexico and Central America. 
She is committed to sharing her experience and building bridges between investors and entrepreneurs in the areas of biotechnology (to restore soils), artificial intelligence and machine learning devices (to detect ripening stages in different fresh produce) plus in foodwaste (to use it as a byproduct for reducing GHG). 
With great ability on languages, passionate for innovation, diversity and inclusion, Claudia  focuses in forging a robust network to promote women into boards. She is a strong believer of talent, balance and collaboration among different etnicities, genders, races to build up a more sustainable and profitable future for companies to combat climate change. 
This is the reason why she is co-leading the 30% Club in Mexico together with Laura Cruz from Mastercard. This business global campaign works with Chairs and CEOS to promote female talent into Boards. She wants to contribute into designing a more balanced workplace where men and women can collaborate to promote growth under a different dynamic where the benefits of diversity can foster innovation, sustainability and profitability in the long run. 
She is  also the National Chancellor of the EXATEC EGADE Association and participates in the Risk Investment Committee of Evolusie 3.8 a fund that promotes climate change investment. Mentor in Entrepreneur Organization and Board Member at Enlance, both organizations that promote incubating, accelerating and capital investments for Mexican entrepreneurs. 
She is an Industrial and Systems Engineer from ITESM and holds an MBA with double degree from EGADE and the University of Texas in Austin. (Languages: English, Spanish, Italian, German, Swedish and French)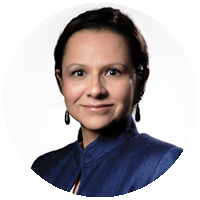 Claudia Corona
Founder
Impronta Verde