Angela Hurtado is J.P. Morgan's Managing Director, Senior Country Officer for Colombia, Responsible for the firm's operations and client contacts in the country across its lines of business.
She joined J.P. Morgan in 2006 as derivatives trader for the recently incorporated Local entity. In 2007 she became head of Local Markets, also responsible for the markets franchise in front of regulators. In such role Angela has greatly contributed to the establishment and expansion of JPM's footprint in Colombia, both with local and international clients, thorough the offering and support of investment and hedging tools for the institutional and corporate sectors. She is also a member of the Local Management Committee and a member of the board of JPMorgan Corporacion Financiera (the main legal entity in Colombia), which is responsible for ensuring a sound control environment and compliance with local regulations. Angela led the team that worked on the conversion of the local entity in a full bank in 2020, now Banco JPMorgan Colombia. Prior to joining J.P. Morgan she worked for six years in Banco de Bogotá as head of the Derivative Structuring team and in the Fixed Income and FX desks. She started her career as an intern in the Ministry of Financeand Public Credit Colombia.
Angela has an International Finance degree from La Universidad Externado de Colombia. She is also member of the Board of Directors of the Local Stock Exchange – BVC- and president of Women in Connection a nonprofit organization.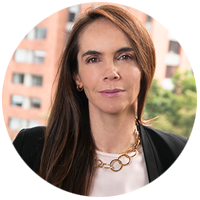 Angela Hurtado
Managing Director and Senior Country Officer, Colombia
JPMorgan Chase & Co.