Professional history 
Aline Menezes is the General Counsel for LatAm and General Counsel for UBS in Brazil. Aline has overarching responsibility for Legal matters arising from all business lines with local presence. She joined UBS in 2011 and had a key role in obtaining greenfield licenses for UBS, as well as in all proprietary transactions concluded subsequently (Link, UBS Consenso and UBS BB). She holds statutory positions in the local entities, and is a member of the local Executive Committee. Since 2012, Aline is a member of the Supervisory Counsel of BSM – Market Supervision, the self-regulatory body of B3 (single trading venue in Brazil), responsible for supervising and deciding on regulatory enforcement procedures against market participants. She is also a member, since 2010, of the Market Supervision and Norms Advisory Committee of B3, created to foster dialog with senior market representatives. 
Before UBS 
Before joining UBS, Aline worked at Trindade Advogados – a boutique law firm specialized in regulation, corporate and securities markets law. Previously, she served during four years at the Brazilian Securities Commission, having occupied multiple positions, including clerk to the Chairman and Director of the Market Regulation Division. In this latter role, she led a broad modernization of some of the most important securities markets regulations.  
Education 
Aline holds a BA a strictu sensu Master's degree in commercial law from the University of São Paulo. Senior Leadership Program – IMD. She is an enthusiast and frequent author of articles on regulatory and capital market matters, and a seasoned speaker in law and administration schools. She is a co-founder of the Brazilian Capital Market Working Group (GMC) of FESPSP, a think tank in Brazil for securities markets, and a member of the Brazilian Institute of Corporate Governance. She lives in São Paulo and has three children (10, 7 and to 5 years old).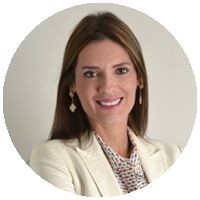 Aline Menezes 
General Counsel for LatAm and Brazil
UBS Group