Aline Larangeira is a Managing Director, member of ZRG´s Financial Services Sector. She is based in São Paulo.​
Bringing over 20 years' experience, above all in consulting and Executive Search, Aline is known for her ability to drive results for clients through the assessment and recruitment of senior-level executives for positions including Board member, CEO, General Manager, and C-level positions.​
Education​
Aline has a bachelor's degree in Business Administration from the University of Sao Paulo, and an Executive-MBA from the Escola Superior de Propaganda e Marketing (ESPM) in Sao Paulo. She is fluent in Portuguese and English​.
Expertise​
Serving primarily the financial and professional services sectors, Aline focuses on Brazilian and international financial institutions, private equity firms and its portfolio companies, professional services and real estate companies. She also leads search assignments across sectors for financial officer roles. ​
In addition to her capabilities in talent acquisition, Aline also boasts a successful track record in advisory solutions including leadership assessment and board effectiveness.  ​
Previous Experience​

Before moving into Executive Search, Aline held corporate roles in strategic planning, operations and marketing at Whirlpool and with a local start-up in Sao Paulo - Connectmed. She began her career in strategy consulting with Booz Allen & Hamilton.​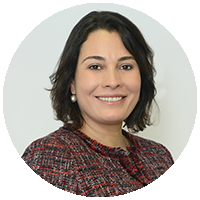 Aline B. Larangeira
Managing Director
ZRG